Unity Charity
Special Thanks to Unity!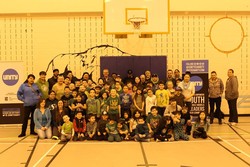 UNITY engages youth by implementing school and community programs helping youth positively express their stress and develop skills for success. UNITY empowers youth to make better choices as leaders, mentors and positive community role models leading to more productive citizens, safer schools, and healthier communities. They have came up to Fort Chipewyan on many occasions throughout the years and worked with the youth and community. 
Check out their site and video from one of their visits to Fort Chipewyan.
Webpage : http://unitycharity.com
Facebook: Unity Facebook page