Back to all posts
Posted on
ADCS students exploring career opportunities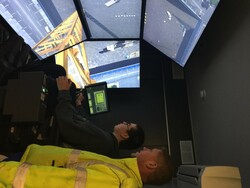 The CAREERS: the Next Generation team of Crystal Boers, Field Director, and Elaine Read kick-started their 2018-19 future-careers-focus in the school with two sessions. 
On October 17th, senior high students completed a Color Spectrum Personality Quiz, which matches their character traits profile with a colour. Having this insight helps identify career fields they would most likely find satisfying. Junior high students were given a team-construction challenge. The timed event focused on exploring the "soft skills" required to be successful in a work-place environment: sharing of ideas, collaborating to make a decision, and dividing the task into components for each team member. There were many creative solutions to building their towers! And there were prizes!
Crystal and Elaine also met 1-on-1 with ADCS students that had participated in Summer 2018 Career Exploration Camps. The feedback is used to design follow-up career experiences for the students. 
A committee was formed to help select the six students who travelled to Fort McMurray for a tour of Keyano College; to attend CAREERExpo, held at the Syncrude Sports and Wellness Centre; and a career-insight Waste-Water Plant Tour.
The CAREERS: The Next Generation coordinators will be in the school once again before Christmas break, and have planned four visits in the new year to facilitate planning for post-graduate transitions and camp registrations.