Back to all posts
Posted on
Elia Haydon appointed Athabasca Delta Community School Principal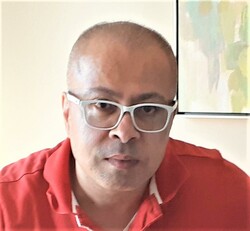 Northland School Division (NSD) is pleased to announce the appointment of Elia Haydon as Athabasca Delta Community School (ADCS) Principal. Elia can be best described as an educator with worldwide experience. Over 16 years, he has educated students in Canada, the United States, Korea and in Oman. Seven of those years include serving as a principal in Canada and China.
"It is my pleasure to extend a sincere greeting to all students, parents/ guardians and staff," said Haydon. At ADCS, we will prepare and equip our students with the essential knowledge, skills and personal qualities that will enable them to thrive in a constantly changing world. We value our partnership with our parents/guardians and the school community and thank them for their support as we journey together to see students reach their maximum potential. As we have an open-door policy, we encourage and invite you to visit our school. We welcome the opportunity to show you our school in action - students and staff engaged in learning within an encouraging, inspiring, safe, positive and inclusive environment. I look forward to welcoming each of you during the 2019-2020 school year."
Elia's career in education began in 1995 in Korea. For eight years, Haydon provided teacher training and taught English. From 2005 to 2011, Elia served as a coordinator at the College of Applied Sciences in Sohar, Oman. As a coordinator, Haydon helped to develop instructional programs, hire staff and oversee logistics of exams. As a principal, Elia worked at Brochet School (Frontier School Division), the Canadian International School of Beijing and at Father Megret High School in Wollaston, Saskatchewan.
Haydon's education includes a Bachelor of Arts-Education, a Bachelor of Arts – Linguistics from Concordia University (Montreal, Quebec) and a Master of Education from Mount Saint Vincent University (Halifax, Nova Scotia).