Back to all posts
Posted on
Local artist making a difference at ADCS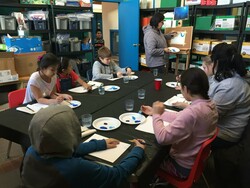 Jessica V. Powder has been providing art classes at Athabasca Delta Community School for the past two years. She is a self-taught deaf artist who, with the help of her mother acting as interpreter, has taught students who fall into the magic of creation with her. Jessica has been hired by the Toronto Royal Conservatory of Music, Learning Through the Arts. 
Historically, Learning Through the Arts has been coming to Fort Chipewyan for many years bringing up talent in the visual, audio and theatre arenas. But it had always been the vision of Shelley MacDonald, Project Co-ordinator, to have a local artist working with students.
And so it is happening. This current session has 56 students signed up. Jessica and Doreen work with 6-8 students at a time, ECS through to Grade 9. The sessions last 2 hours and students leave with an art piece.