School News
Experiential Learning Gathering - Fort Chipewyan
Posted on

September 15th, 2015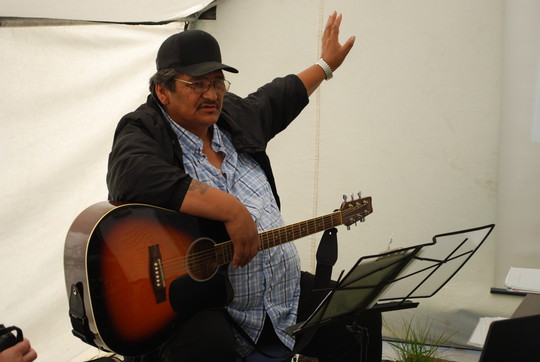 Lake Athabasca Youth Council Coordinator Tina Fraser described a real sense of community within a community while attending the Experiential Learning Initiative (ELI) Gathering in Fort Chipewyan. The Gathering, hosted by Sustainable Communities Initiative (SCI), Lake Athabasca Youth Council (LAYC), Sekweha and Experiential Learning Initiative, was organized to coincide with new teachers arriving at Athabasca Delta Community School (ADCS).
Mike Mercredi, ELI Community Coordinator, says events like ELI help teachers feel more comfortable, develop meaningful relationships with community members and interact with students outside of the classroom walls.
"I want teachers to see who they can work with in the community," said Mercredi. "What we have noticed is that when we get community members in the school, the kids are different, the kids behave different. Teachers get to see kids in a different light and the community in a different light. Not always between 8 am - 3pm."
The ELI Gathering was held at Doghead, the same area where the former residential school was located. The venue selection created a meaningful opportunity for youth, parents, elders, community members, teachers and stakeholders to come together and reclaim the land and move forward with the ELI concept of Walking in Two Worlds; To Take Action, Trust People and Dream Big. Over a four day period (August 23rd - 26th), community members hosted workshops to give educators and guests' insight into experiential learning practices, a deeper knowledge of local cultural protocols and how individuals deal with residential school experiences. Workshops included:
Healing through Art and Music: Edward Marten explains his journey, using art and music to share and healing of his residential school and life experiences.
Introduction to Filming, Recording and Capturing Experiences: Practical explanation of how to record experiences by film, interview important people like elders and land-users, and respecting boundaries and protocols in doing so.
Reiki Sessions: One-on-one Reiki energy healing sessions.
Cultural Protocols with Athabasca Tribal Council: a cultural presentation by Rita and Alice Martin on history and protocols in the region for teachers, others, including 7 sacred teachings.
Let's Get Physical: Games to grow physical literacy – becoming more physically literate, meaning being in touch and understanding your body.
Tipi Teachings: Irene Redwood explains the 14 tipi values (one for each pole), how to connect this within the school and curriculum.
Beading tent: Ongoing instruction on traditional beading.
Lake Tour: Boat ride to explain various areas of the lake and river, traditional uses and recent environmental changes. Participants came upon a Dry Fish Making camp.
Self-defense Demo: Teaching youth the art of self-awareness and self-defence.
Cree Language: Teaching basic Cree commands and phrases, classroom application.
Dene Language: Teaching basic Dene phrases.
Residential School History: History of residential school in Fort Chipewyan, stories from survivors and intergenerational survivors.
Driftwood Carving: This was an impromptu workshop by Charles Castor, an Athabasca Chipewyan First Nation employee.
Drum making.
Survivor games: Brought everyone together; elders and youth.
Dawson Mercredi, a LAYC male student representative, says he is proud of how kids behaved during the ELI Gathering.
"The highlight for me was to see the kids get involved, having fun and taking part in workshops like making drums," said Mercredi.
Ethan Morice's face expression said it all while talking about the ELI Gathering. Ethan, who is from Janvier, smiled while explaining his accomplishment of carving a pipe for his grandfather. After explaining his learning experience, he added that he hopes to build upon those skills in art class. The positive vibes from the ELI gathering was echoed by Janvier Elder Laurette Herman. She says it was special to reconnect with old friends, develop new friendships, learn and enjoy meals planned by youth.
"I learned more about hand games in Fort Chipewyan," said Herman. "I sat right close to it, listened to the way they do their hand games. The kids were right into it and I'm so happy they enjoyed it."
When asked about how students will use this knowledge gained from the ELI Gathering, she says they will do it by continuing oral tradition.
"Students will be the ones to teach the other kids about what they saw and make a story about it," said Herman. "It is a good way for them [students] to explain why they were here [Fort Chipewyan]."
Experiential Learning is becoming the norm for students in Fort Chipewyan and Janvier. During the 2014-2015 school year, students participated in a moose hunt and flew to Camp Voyageur to acquire skills such as building a kitchen and common area at camp using basic tools, setting and routinely checking a fish net, properly filleting a fish and constructing a smokehouse. Before the school year began last year, teachers participated in an ELI Gathering at Winefred Lake. Ceretzke says all of these experiences will improve the quality of learning for students.
"For the student, it's going to make it [learning] real," said Ceretzke. "It's going to provide those layers of hands on learning, identity, honouring one's place in the environment and realistic approach to the program of studies. Hearing from staff, everyone took in everything from hands on skills like drum making to those deeper conversations about understanding the place [Fort Chipewyan]. Also start that sense of belonging and learning about the families in the community and the place."
Evangeline Cardinal, LAYC member, recently graduated from ADCS and is pursuing a career in the film industry. She shared what she would tell others about experiential learning.
"I would talk about how ELI took some students out hunting last fall and got credits for it in school," said Cardinal. "Before we would go on hunting trips and miss school but you never really got anything back from it. To be able to participate in fishing and hunting and get something back from it education wise is a step in the right direction."